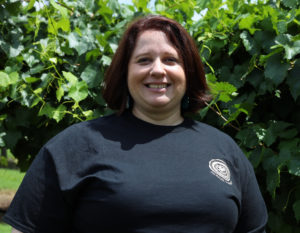 Michele – Social Media and Event Coordinator | Century Farm Winery
Welcome to Century Farm Winery, where the art of connection is orchestrated by Michele, our adept Social Media and Event Coordinator. Since her arrival in July 2023, Michele has been the guiding force behind our digital presence and engaging gatherings, weaving an atmosphere of warmth and celebration.
Unveiling a Winery Gem – Poverty Point Red: Michele's discerning palate is captivated by Poverty Point Red, a wine bearing the namesake of our cherished Century Farm, a gift from Jo O'Cain during her childhood. This exquisite blend harmoniously fuses 35% Corot Noir, 40% Chambourcin, and 25% Cabernet Sauvignon, creating a treasure trove of flavors akin to liquid gold. With a graceful body and a palate that evolves with each sip, Poverty Point Red embodies a journey of taste and discovery. Aptly coined as our "pizza wine," it elegantly complements slices of pie and unveils its charm alongside bruschetta, mushrooms, muffuletta, and an array of delectable cheeses. 
Shop Michele's Favorite Wine – Poverty Point Red
A Symphony of Passions – Music, Artistry, and More: Beyond her role at the winery, Michele's spirit dances to the melodies of the Dave Matthews Band. With the songs "Tripping Billies" and "#41" serving as her muses, infusing her days with rhythmic touch of DMB. When not orchestrating events, Michele's clarinet finds its voice in the Jackson Symphonic Winds Orchestra. A master of versatile talents, she oversees antique booths, embroiderers, delves into literary worlds through books and holds a pivotal role in the Ole Miss chapter of Alpha Chi Omega as the Alumni Vice President of Membership Programming. Michele's photography and writing prowess extends beyond the winery as she contributes her skills as a freelance reporter and photographer for Gibson Publishing.
Family, Furry Companions, and Journeys Abroad: Nurturing her family with devotion, Michele is the proud mother of Walker and the cherished partner of John. Millie, her Aussie Doodle snuggle bug, and Bella, her charismatic Beagle diva, grace her home with love and joy. Michele's heart also yearns for distant horizons, with France and the tranquil allure of the beach as her preferred travel destinations. With a camera in hand, she captures the essence of life around her each day.
Elevating Connections and Celebrations: In the realm of Century Farm Winery, Michele's artistic finesse and dedication bring events to life and create a virtual space that resonates with enthusiasts. Whether through captivating posts or vibrant gatherings, Michele's touch enhances your experience, forging bonds that endure.
Join Michele in exploring the fusion of flavors, melodies, and moments that define Century Farm Winery. Raise your glass to the seamless blend of creativity, camaraderie, and artistic vision that embodies our winery's journey.