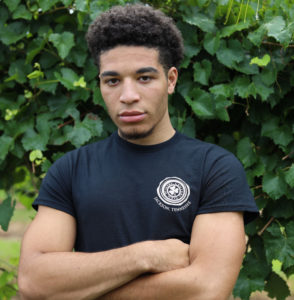 Will – A Multifaceted Presence at Century Farm Winery | Summer Team Member
Meet Will, a dynamic and multifaceted presence at Century Farm Winery. Hailing as the son of proprietors Bart and Neka, Will has woven himself into the fabric of our winery since 2020, dedicating his summers, from May to August, to elevate your winery experience.
Within our estate's picturesque grounds, Will plays a pivotal role in various capacities, showcasing his versatility and dedication. From nurturing the property's natural beauty to curating unforgettable moments behind the tasting bar, his influence resonates throughout. Aptly describing his role, Will humorously quips, "I'm like a Swiss Army knife at the winery."
Beyond his unwavering commitment to enhancing our winery, Will's interests paint a vivid picture of his vibrant personality. With an affinity for Old School R&B melodies, he finds solace in the harmonious tunes, and Rod Wave takes the mantle as his favorite artist. The football fervor runs deep within him, as he cheers passionately for The Tennessee Vols and NFL Saints, infusing his spirited energy into the game.
Outside the winery's ambiance, Will's unique style takes center stage through his fascination with sneaker culture. A devoted collector, his prized possession is none other than the iconic Jordan 4's, a testament to his appreciation for timeless aesthetics.
As the seasons change, so does Will's journey. In the upcoming fall, he'll embark on a new chapter at the University of Chattanooga, where he'll immerse himself in the world of Business Studies. Will's unwavering dedication, eclectic interests, and genuine charm make him an exceptional asset to the Century Farm Winery family, enriching your experience in every interaction.