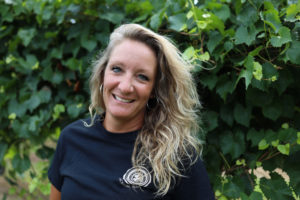 Tesha – Vineyard Specialist | Century Farm Winery
Welcome to Century Farm Winery, where passion meets craftsmanship in every bottle of wine. Meet Tesha, our dedicated Vineyard Specialist and Wine Enthusiast, whose expertise and love for the vineyards bring you the finest wines.
Tesha – The Vineyard Virtuoso: Tesha's journey at Century Farm Winery began in March 2023, and ever since, she has been the beating heart of our vineyard. With a keen eye for detail and a nurturing touch, Tesha tends to all the vineyard's needs, ensuring each grape receives the utmost care. From the moment the vines bloom to the harvest of perfectly ripened grapes, Tesha's hands are behind every step of the vineyard's journey.
A Cherished Creation – Chambourcin: Among the array of exceptional wines produced at Century Farm Winery, Chambourcin holds a special place in Tesha's heart. This medium-bodied American Hybrid captivates the senses with its soft cherry tone finish and enchanting aromas of red currant fruit. Aged for 10 months in American oak barrels, this wine reaches its peak of perfection. Pair Chambourcin with beef and mushrooms, pasta in tomato sauce, or a delicious pizza to elevate your dining experience. 
Shop Tesha's Favorite Wine- Chambourcin
Life's Melody and Adventures: When Tesha isn't cultivating the vineyards or crafting remarkable wines, she finds joy in the rhythm of country music, a perfect match for her love of the great outdoors. Accompanying her on adventures is her loyal canine companion, Hope, affectionately known as Hopi. Together, they explore the wonders of nature through hiking, camping, gardening, and fishing, embracing the beauty that surrounds them.
A Family of Love and Togetherness: Tesha's world is filled with love and togetherness, as she cherishes the role of a mother to three lovely girls. Engaged and excited to embark on a new chapter of her life, Tesha finds harmony in the union of her family and her passion for winemaking.