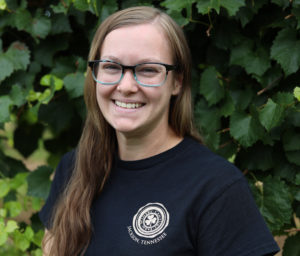 Krystal – Tasting Room Expert | Century Farm Winery
Step into a world of exquisite wines and Southern charm with Krystal, a cherished member of the Century Farm Winery family. Since joining our team in May 2023, Krystal's passion for wines and warm hospitality has elevated the tasting experience for all our guests.
Savoring the South – Krystal's Favorite Wine: White Muscadine
Embrace the essence of the South through Krystal's favorite wine, White Muscadine. Crafted from the bronze muscadine grape, this semi-sweet to sweet wine captures the region's spirit. A medium-bodied delight, White Muscadine dances on the palate with notes of banana and white flowers, accompanied by a unique, spicy perfume-like aroma. Hints of salt, lime, or pine resin add depth, complemented by the wine's low sugar content and high acidity. Best served chilled, it pairs harmoniously with pork entrees or luscious fruit desserts like apple crisp. The accolades speak volumes – 2013 Bronze Medal at Dixie Classic Fair, 2008 Gold Medal at Wines of the South, and 2009 Silver Medal at Wines of the South. Shop Krystals Favorite – White Muscadine.
Melodies of the Past – 70's Music and Eric Church:
Krystal's heart beats to the rhythm of 70's music, infusing her days with nostalgia and joy. Her favorite artist, Eric Church, holds a special place in her musical journey, adding an enchanting melody to her life.
Nature's Embrace – Outdoor Adventures:
When Krystal steps away from the Tasting Room, she embraces the great outdoors alongside her husband and two adventurous boys. Fishing and hiking expeditions become cherished family moments that celebrate the beauty of nature.
Leader of Scouts and Literary Explorer:
Krystal's dedication extends beyond the winery as she leads her boys' Boy Scout troop, imparting valuable life skills and fostering camaraderie. An avid reader, she immerses herself in books of all genres, with a special affection for "Haunt" by Christine Mazaitois.
Feline Companions and Feathered Friends:
At home, Krystal finds comfort in the company of her two cats – Claire, her chunky and lazy companion, and Ivy, with sweet and cuddly presence. Her home is also a haven for various bird breeds, including quails, pheasants, and chickens, creating a harmonious symphony of life.
At Century Farm Winery, Krystal's welcoming smile and passion for wine shine through every tasting experience. Her dedication to providing exceptional service and her vibrant spirit make her an integral part of our winery family.
Join Krystal on for a journey of flavors, melodies, and outdoor adventures conversation at Century Farm Winery.