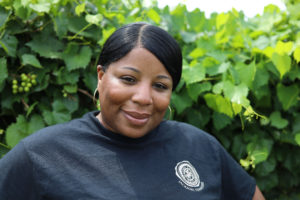 Neka – Tasting Room Maestro | Century Farm Winery
Step into the heart of Century Farm Winery, where Neka, the driving force behind our tasting room and merchandising, welcomes you with open arms. As the beloved wife of proprietor Bart, Neka infuses her unwavering dedication and creative spirit into every facet of our winery, creating an unforgettable experience for all who visit.
A Vision of Excellence:
Since joining the Century Farm Winery family in November 2017, Neka has been at the helm of the tasting room, orchestrating its operations with finesse. Beyond her role in merchandising, she lends her skilled hand to grape harvesting and daily activities, ensuring that each detail is meticulously cared for.
Adoration for Traminette – A True Culinary Symphony:
Among the array of exceptional wines at Century Farm Winery, Neka's heart resonates with Traminette. Crafted from the intricate cross of the French American hybrid Joannes Seyve and the German Gewürztraminer, Traminette's distinct charm captured Neka's palate. Its floral and spicy notes, balanced with a peppery finish, make it an exquisite choice. Neka pairs Traminette with her rosemary and onion-infused tenderloin, reveling in the harmony of flavors. A testament to its acclaim, Traminette boasts a parade of awards, including the prestigious 2011 William O. Beach Award.
Shop Neka's favorite wine-Traminette.
Synergy Between Melody and Elegance:
Neka's profound affinity for the musical landscapes of the 90s and the timeless essence of old soul R&B delights the ears of visitors during their visits to the winery. Much like her middle child, Will, Neka exquisitely channels her sense of elegance through the realm of shoes with her favorite pairs being designed by Vince Camuto, a hallmark of refined style.
Culinary Explorations and Cosmopolitan Pleasures:
When not immersed in her role at the winery, Neka embarks on culinary adventures, exploring new dining experiences with her family. The dining experiences become journey's of culinary discovery, igniting her passion for diverse culinary tastes.
Unveiling the World and Embracing Family:
Beyond the winery's realm, Neka discovers solace in the embrace of both family and worldly adventures. With three boys and a cherished granddaughter, every moment the family spends together becomes a treasured memory. Neka's journey through diverse cultures has led her to a profound connection with Jamaica, where the rich tapestry of cultural heritage, entrancing reggae rhythms, tantalizing cuisine, and immaculate beaches has irresistibly captured her heart and imagination, leaving an enduring allure that beckons her to return with her husband and two youngest sons.
A Path Forward – Expanding Horizons:
Aligned with her husband Bart's vision, Neka eagerly anticipates the future of Century Farm Winery, where the creation of satellite locations will weave the winery's magic throughout Tennessee, connecting with even more wine enthusiasts.
Indulge in the symphony of flavors and experiences crafted by Neka at Century Farm Winery. Raise your glass to the art of winemaking, the beauty of Traminette, and the soulful touch that Neka brings to every aspect of our beloved winery.