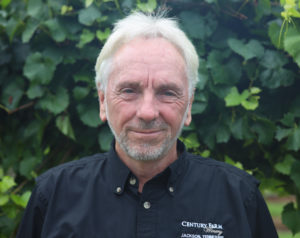 Tom – Tasting Room Expert | Century Farm Winery
Embark on a sensory journey at Century Farm Winery with Tom, a seasoned member of our team whose expertise has been honed over his 13-year tenure at the winery, starting in August of 2010. Hailing from the enchanting landscapes of Scotland, Tom's passion for wine and unwavering commitment makes him an integral part of our winery team.
A Renaissance of Tastes – The Norton Experience:
Tom's palate finds solace in the embrace of Norton, a wine of historical significance that played a pivotal role in the late 1800s, saving the wine industry through grafting techniques. As the State Grape of Missouri, Norton stands as a symbol of American viticultural ingenuity. Comprising high acidity, light tannins, and balanced alcohol, Norton reveals layers of flavor, from youthful bursts of blackberries, black cherries, chocolate, and vanilla in younger vines, to the captivating earthiness and spiciness of older vines. Aged in American oak barrels, this distinguished wine boasts a hint of oak on the nose and palate. Pairing harmoniously with rich fare, such as steaks, creamy sauces, cheeses, and barbecued meats, Norton is a testament to the marriage of history and taste. Shop Tom's favorite – Norton.
Harmonizing with Melodies – Musical Tastes:
In his leisure moments, Tom's appreciation for the harmonious extends beyond wine into the realm of music. A collector of Classical compositions, his heart finds resonance in the enchanting melodies of composers of the past. Traditional bands like The Eagles and singer Loreena McKennitt also grace his playlist, capturing the spirit of his diverse tastes.
Exploring Nature's Canvas – Lakeside Escapes:
When not imparting his wisdom in the tasting room, Tom ventures into the great outdoors for a blend of relaxation and adventure. Camping and canoeing on serene lakes form the backdrop to his rejuvenating escapes. His favorite haven, Pin Oak Lake in Natchez Trace, draws him in at least twice a year, where the tranquil waters and unspoiled landscapes replenish his spirit.
Family Ties and Global Connections:
Tom's roots stretch across continents, with two daughters residing in Scotland and Connecticut, respectively. He is the proud grandfather of a beloved granddaughter, and a brother to a sister who remains in Scotland keeps the tapestry of his heritage woven together.
A Symphony of Expertise and Passion:
At Century Farm Winery, Tom's wealth of knowledge and passion for wine are seamlessly woven into every tasting experience. Whether guiding you through the nuances of Norton or sharing tales of his Scottish roots, Tom's presence enriches your journey through the world of wine.
Join Tom in experiencing the depth of Norton and the magic of Century Farm Winery. Raise your glass to the confluence of history, taste, and melody that defines our winery's soul.