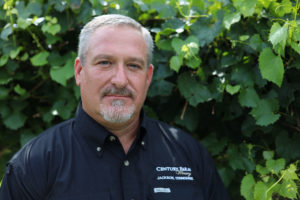 Bart – Proprietor and Master Winemaker | Century Farm Winery
Welcome to Century Farm Winery, where the art of winemaking meets the soulful touch of Bart, our devoted Proprietor. With deep roots and a passionate spirit, Bart has carried forward the legacy of this winery, ensuring that each sip tells a story of dedication and love.
A Family Legacy Reimagined:
Proprietor Bart's journey in the world of winemaking began with his mother Jo and stepfather Carl, the original owners of Century Farm Winery. In the summer of 2017, Bart stepped into the role of proprietor, taking the reins of this cherished establishment. A true Renaissance figure, Bart's talents encompass the roles of master winemaker, vineyard manager, and business strategist, making him an indispensable force behind the winery's success. "I am a peasant of the land," Bart humbly declares. This profound connection to the earth resonates through every aspect of his work, infusing each bottle with the authentic essence of the land.
Traminette – Bart's Vinous Passion:
Among the diverse wines crafted at Century Farm Winery, Traminette holds a special place in Bart's heart. A product of the French American hybrid Joannes Seyve and German Gewürztraminer, Traminette's floral and spicy notes make it a true masterpiece. Traminette's easy-sipping character makes it an ideal companion for pears, apples, nuts, cheeses, seafood, fish entrees, grilled pork tenderloins, and turkey breasts. Shop Barts Favorite Wine-Traminette
Balancing Passions – Golf, Vols, and Grilling:
While devoted to his craft, Bart finds solace in the game of golf when time away from the winery allows. As a proud graduate of the University of Tennessee, Bart cheers fervently for the Vols, embodying his unwavering college spirit. At home, he showcases his culinary skills through grilling, creating flavorful feasts that bring joy to his family and friends.
Family and Forever Love:
In the realm of love, Bart's heart belongs to his beloved wife Neka. Together, they nurture a beautiful family, including three wonderful boys and a cherished granddaughter.
Expanding Horizons – Satellite Tasting Rooms:
Bart's vision for Century Farm Winery extends beyond its current horizons. He envisions growing the winery into satellite location tasting rooms, spreading the magic of Century Farm Winery wines to new corners and sharing the winery's flavors with a wider audience.
Indulge in the passion and dedication of Bart, the heart and soul behind Century Farm Winery. Raise your glass to the artistry of Traminette and the journey of a family legacy that will continue to flourish for years to come.