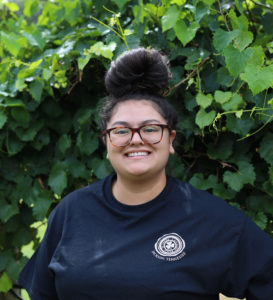 Brandi -Tasting Room Expert & Wine Club Manager| Century Farm Winery
Discover the delightful world of wines at Century Farm Winery with Brandi, one of our Tasting Room Experts. Since joining our team in November 2022, Brandi's passion for exquisite wines has made her an invaluable member of our family.
Heritage Red – Brandi's Sweet Delight: Among the wide array of wines at Century Farm Winery, Brandi's heart belongs to the Heritage Red. With enthusiasm, she describes it as a "sweet and delicious" deep red wine crafted from the familiar Concord grape. This native American grape variety boasts a medium acidity and low tannins, giving the wine a smooth and delightful taste. Hints of cherry and spice in the nose add to its allure. Pair this delightful wine with chocolate-based desserts or add some club soda for a bubbly, festive beverage. Heritage Red has garnered accolades, including a Gold Medal at the 2013 Dixie Classic Fair and another Gold Medal at the 2010 Wines of the South competition. Shop Brandi's Favorite-Heritage Red.
A Connoisseur of Music and Bruno Mars Admirer: Brandi's love for music knows no bounds, embracing all genres with open arms. However, her favorite artist is the incomparable Bruno Mars, whose melodic tunes resonate with her heart and soul.
Life Beyond the Tasting Room: During her leisure time, Brandi indulges in reading books on leadership and marriage, enriching her knowledge and character. She finds solace and connection within her church community, engaging in Bible studies and fostering lasting relationships. Additionally, she stays active and vibrant through volleyball games, which add to her love for life's pleasures.
Married Life and Cherished Family: On October 8, 2022, Brandi embarked on a journey of love and togetherness as she married Ethan. Their shared dreams are blessed by the presence of two wonderful daughters, who bring joy and laughter to their household. Not to be forgotten is their adorable dog, Roa, whose name sounds like the word "row."
Indulge in the enchanting taste of Heritage Red and savor the camaraderie that Brandi brings to the Tasting Room. Join us at Century Farm Winery and raise a glass to the beauty of wine and the joy of shared moments.