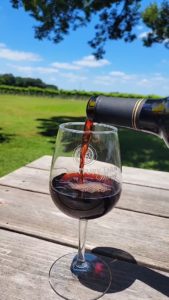 This month we celebrate our Red Muscadine. Here at Century farm winery, we have about 4 of our 10 acres planted to Muscadine Vines. Muscadine was the first grape native to the US to be cultivated, and thrives all over the south. We have 4 types of Muscadine: Noble, Welder, Sterling, Magnolia, noble being our only Red muscadine variety.  As indicated by the name, these wines often have a "musky" or perfumed aroma, with flavors sweet like honey or bubblegum. Come on by to taste the fruits of our labor for a special price through the end of the month!
Wine Of The Month Special:
10% off a bottle (up to 11 bottles)
20% off a case
Discount applies only in tasting room.